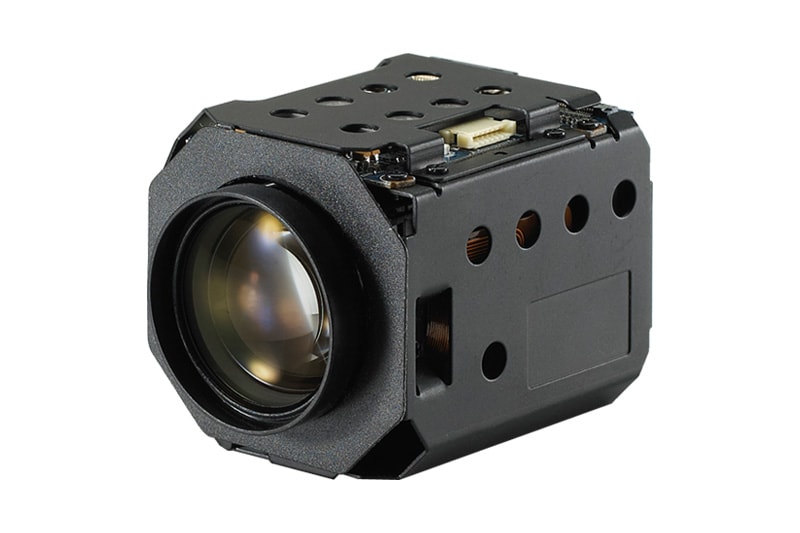 Click image to enlarge
Harrier 10x AF-Zoom SDI Camera
Part Number: AS-CAM-10SHD-A
Full HD autofocus-zoom camera
Output: 3G-SDI, HD-SDI, EX-SDI, HD-TVI, CVBS
Video formats (HD): 1080p – 60/50/30 fps, 720p – 60/50/30 fps
1/2.8-type 2MP Nuvoton CMOS sensor
10x Optical Zoom & 32x Digital Zoom
Compact size with low power requirement
Effective number of pixels approx. 2,360,000
Shutter speed 1/30(25) – 1/30,000 sec
Dimensions (L x W x H): 62.4 x 43 x 44mm
VISCA, Pelco – D/P Control Protocol
Enquire About This Product
Description

Product Specs

Downloads

Ordering Info

Video
Description
Products Specs
Downloads
Ordering Info
Video
The Harrier 10x AF-Zoom SDI Camera is a compact, low power camera option with real-time full HD SDI video output (via MMCX connector) and 10x optical zoom.
Fitted with a 2MP Nuvoton (Panasonic) CMOS sensor, this SDI block camera provides 3G/HD-SDI video and also offers EX-SDI (compressed video), HD-TVI and CVBS output options that enable the use of longer transmission cables (compared to SDI).
The Harrier 10x AF-Zoom SDI Camera measures only 62.4 x 43 x 44mm (L x W x H) and weighs 112g. It offers SMPTE 274M and SMPTE 296M compliant Full HD video output up to 1080p60. Sophisticated camera features include Real-time True Wide Dynamic Range (WDR), Day & Night mode – Infrared Cut filter Removal (ICR), Digital Noise Reduction (2D + 3D DNR) and Digital Image Stabilization. The camera can be controlled using VISCA protocol serial communications or Pelco – D/P Control Protocol.
An evaluation kit for the Harrier 10x AF-Zoom SDI Camera is available. Please contact the team for more information.
Active Silicon offers two variants of Harrier 10x AF-Zoom Cameras with SDI video output. The Harrier 10x AF-Zoom SDI Camera is more compact and provides EX-SDI and HD-TVI output options. The Harrier 10x AF-Zoom 3G-SDI Camera also delivers high quality 3G/HD-SDI output, but is made up from a Harrier 10x AF-Zoom (LVDS) Camera with a Harrier 3G-SDI Camera Interface Board; this enables support for HD-VLC output, which we recommend for use with extra long cable lengths and the Bluebird SDI Adapter. The interface board can also be modified to add custom video processing features.
For more information please talk to our team to discuss the best option for your application.
Camera Specification
Video output

3G-SDI / HD-SDI
EX-SDI
HD-TVI
CVBS

Video format (HD)

1080p/60/50/30/25 fps, 720p/60/50/30/25 fps

Analog horizontal resolution

700 TV lines

Image sensor

1/3″ 2MP Nuvoton (Panasonic) MN34422 CMOS sensor (progressive scan)

Effective no. of pixels

Approx. 2,360,000 pixels

Minimum illumination

Color: 0.5 lux , BW: 0.1lux
Color DSS: 0.125 lux , BW DSS: 0.025 lux

S/N ratio

More than 50dB

Gain control (AGC)

OFF/ON

Shutter speed

1/30(25) – 1/30,000 sec

Sync system

Internal

Aperture control

20steps

DSS

Off / 2x / 4x / (8x:60 or 50 fps only)

White balance

Auto, One Push, Manual, Indoor, Outdoor

AE (Auto exposure mode)

Auto, lris Priority, Shutter Priority, Manual

Lens (wide to tele)

10x optical zoom f= 5.1mm to 51mm F1.6 to 1.8

Digital zoom

OFF / MAX 2x – 32x

Focusing system

Auto, one push, manual

Horizontal viewing angle (wide to tele)

54.74° to 6.01°

Minimum object distance (wide to tele)

100mm to 1000mm

Control protocol

Serial VISCA
Pelco-D / Pelco-P

Baud rate

2400 / 4800 / 9600 / 19200 / 38400 / 57600 / 115200
Camera Functions
| | |
| --- | --- |
| Day & Night mode | Auto / Day / Night / Ext-in. |
| Wide Dynamic Range (WDR) | real-time. OFF / WDR / BLC. |
| Digital Noise Reduction | 2D+3D DNR. OFF / Low / Middle / High / Auto |
| Digital Image Stabilization | Available. |
| High/Back Light Compensation (HLC/BLC) | OFF / ON / Night only. |
| Defog | Available. |
| Motion detection | Detection OFF / 3 positions. |
| Privacy mask | Mask OFF / 24 positions. |
| Defect detection | Detection ON/OFF. |
| Mirror | Off, H, V, H&V. |
General
| | |
| --- | --- |
| Power requirement | 9 – 15V DC. |
| Power consumption | approx. 3W (typical @1080p60) |
| Operating temperature | -10°C to +50°C. |
| Storage temperature | -20°C to +60°C. |
| Operating humidity | 0% to 90% (no condensation) |
| Dimensions (L x W x H) | 62.4mm x 43mm x 44mm  (L x W x H). |
| Weight | 112g. |
Ordering Information
| Part number | Description |
| --- | --- |
| AS-CAM-10SHD-A | Harrier 10x AF-Zoom SDI Camera. |
| AS-CAM-SDI-EVAL-A | Evaluation kit for Harrier 10x and Harrier 36x AF-Zoom SDI camera. Includes power supply, cables and the Harrier Evaluation Board with PC serial interface (via USB). Not included: Camera. |
Harrier AF-Zoom cameras
Watch this video to learn more about Harrier AF-Zoom cameras: