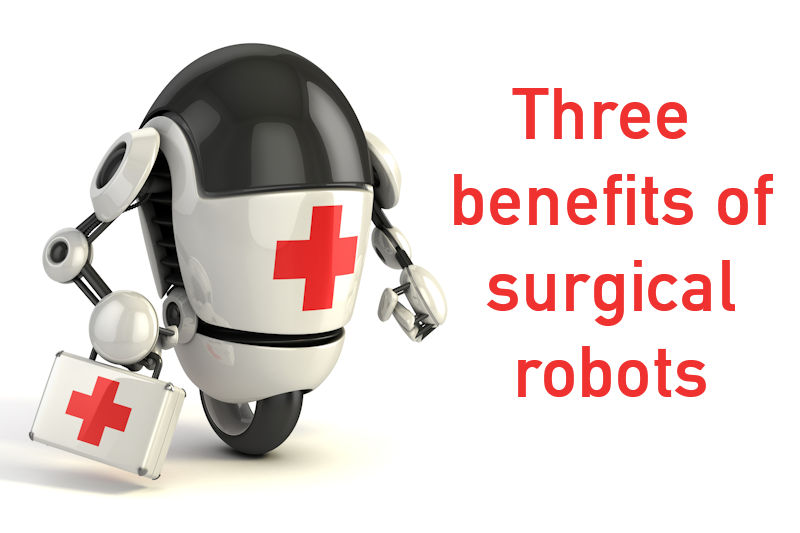 3 benefits of surgical robots
March 29, 2022
We're taking a closer look at some of the cutting edge robotics currently supporting surgeons in ground-breaking procedures, following on from previous blogs on pre-operative, intra-operative and post-operative medical imaging.
The benefits of robotics in surgical procedures are multi-faceted, with platforms aimed at both supporting patient outcomes and recovery, as well as the medical team themselves.
1. Pre-op assistance
Pre-operative robots are being developed by engineers at Rutgers University (USA) that use robotics, AI, and near-infrared and ultrasound imaging to draw blood or insert catheters into veins to deliver fluids and drugs. These imaging techniques enable the device to identify blood vessels from surrounding tissue, estimate their depth, classify and track them. Early indications showed that procedures were carried out more successfully more often than when conducted manually.
Also in the pre-op stage, robots can be used to support medical staff and prepare operating theaters. Gwell Medical (mRobot)'s Noah is an AI-enabled robot capable of collecting surgical instruments from storage and transporting them, via corridors and elevators, to the right operating theater ready for use. Based on Intel architecture, the robots use object recognition and classification along with autonomous navigational technology and scheduling software. Noah robots are currently used in hospitals in China to collect surgical instruments, deliver infusion bags for PIVAS, and gather specimens for laboratory analysis.
2. Ensuring better patient outcomes
Of course, most surgical robots are designed to support critical functions on the frontline of clinical practice and operating procedures. We previously wrote about the origins of surgical robotic systems including Da Vinci and Versius, which have been developed with the specific goals of optimizing surgery, improving outcomes and reducing recuperation time for patients. Using highly precise robotics means smaller incisions, more accurate instrument placement and reduced human error and fatigue. All this is leading to a greater number of successful surgeries and relieved burdens on convalescence and outpatient facilities.
Laparoscopy, the examination of abdominal organs by keyhole surgery, is an obvious field in which surgical robots can bring clear benefits. Robots are not restricted by the limited field of view that surgeons have, and their wider degrees of freedom allow more movement in restricted areas. Surgeons generally only control one instrument per hand, robotics can add the ability to control all camera movement and a maximum of three instruments at any time[1]. Furthermore, the smaller, more precise movements of the robot-controlled instruments add increased accuracy.
Servicing another field of surgery, CUREXO have developed robots designed for performing joint replacement surgeries. The platform uses advanced imaging of patients' bones to allow for a more accurate pre-op plan, and precise, submillimeter cutting of prostheses and dimensional accuracy ensures the best fit and like-for-like replacement.
3. Supporting support staff
In 2005, robotic scrub nurse Penelope entered the workforce. Penelope was a robot designed to pass instruments to a surgeon on his command during operations, and to collate these instruments ready for cleaning afterwards. One advantage that it was intended to deliver was the ability to keep track of all the tools used in a procedure, eliminating the ever-present risk of instruments being left inside patients during their operation. However, the fact that there's no mention of it assisting surgeons beyond 2006 suggests that not all operating room roles jobs can be successfully replaced by a camera and robotic arm!
One support role that is seeing value in outsourcing is that of the cleaning technicians, and we've seen a steep rise in the number of robots carrying out deep cleans in hospitals and operating theaters since the arrival of COVID-19. CES 2022 featured a number of these bots including ADIBOT-A, an autonomous UV-C Disinfection Robotics Solution, and AI-driven Hey-Bot, both of which were recognized as Innovation Awards Honorees. Hey-Bot works with high-temperature sterilization and disinfectant spray, while ADIBOT-A uses ultraviolet light to eliminate pathogens such as bacteria and viruses. These dalek-like robots are becoming a common sight on tech news websites, and indeed, in healthcare facilities.
Hospital receptionists even handed over some of their duties to robots, with the introduction of Pepper robots to two hospitals in Belgium. These social robots are designed to answer questions and direct visitors around the facility, and can reportedly understand 20 languages.
Computer vision in robotics
The adoption of robotics and vision-assisted technology in healthcare facilities is currently experiencing rapid growth. Engineering managers tasked with implementing vision systems for healthcare can view our autofocus-zoom cameras and our custom vision processing units to support medical devices, and get in touch with our design experts to see how we can customize our vision components for surgical robotics.
[1] Laparoscopic vs Robotic Surgery – Scott D. Miller, MD (scottdmillermd.com)