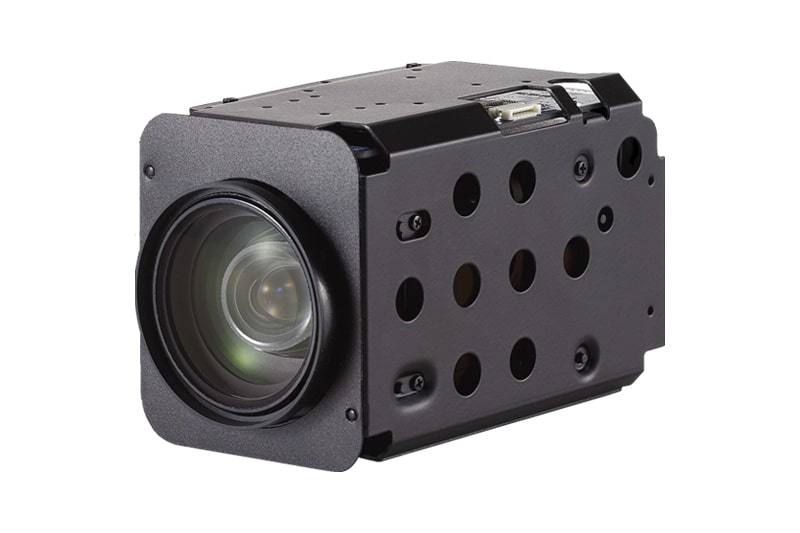 Click image to enlarge
Harrier 40x AF-Zoom Camera
Part Number: AS-CAM-40LHD-A
Full HD high resolution autofocus-zoom camera.
1/2.8-type 2MP Sony IMX462 STARVIS CMOS sensor.
Output: LVDS, CVBS.
Video formats (HD): 1080p – 60/30 fps, 720p – 60/30 fps.
40x Optical Zoom & 32x Digital Zoom.
Effective number of pixels approx. 2,120,000.
Shutter speed 1/30(25) – 1/30,000 sec.
Dimensions (L x W x H): 101 x 54 x 64 mm.
Serial VISCA, Pelco – D/P Control Protocol.
Compatible with Active Silicon's Harrier camera interface boards.
Pre-assembled camera solutions available (3G-SDI, USB, HDMI, Ethernet IP).
Enquire About This Product
Description

Product Specs

Downloads

Ordering Info

Video
Description
Products Specs
Downloads
Ordering Info
Video
The Harrier 40x Autofocus-Zoom (AF-Zoom) Camera is fitted with a 2MP Sony CMOS sensor and offers real-time full HD video output and a powerful 40x optical zoom (32x digital zoom).
The camera provides LVDS video and simultaneously, an analog CVBS output. Serial VISCA or Pelco-D/P Control Protocol are available to control the camera.
Special features of this autofocus-zoom block camera include Digital Image Stabilization, Digital Noise Reduction (2D+3D), Privacy Mask Function, High Light Compensation, Intelligent Motion Detection, Defog Function and Day & Night mode (Infrared Cut filter Removal, ICR).
The Harrier 40x AF-Zoom Camera is compatible with all Harrier camera interface boards, which convert the camera LVDS output to video formats such as 3G-SDI, HD-VLC (for long cable length solutions), USB 3 (UVC), HDMI and IP Ethernet. For more information contact our team.
Camera Specification
Video output

HD: LVDS

Analog: CVBS

Image sensor

1/2.8-type Sony IMX462 STARVIS CMOS sensor

Effective no. of pixels

Approx. 2,120,000 pixels

Sync system

Internal

Video format (HD)

1080p 60(50)/30(25)fps, 720p 60(50)/30(25)fps

Analog resolution

CVBS

Minimum illumination

Color(1/30s, 79.5dB) : 0.01 lux , BW(1/30s, 79.5dB) : 0.002 lux
Color DSS(1/1s, 79.5dB) : 0.001 lux , BW DSS(1/1s, 79.5dB) : 0.0002 lux

S/N ratio

more than 50dB (AGC off)

Lens Type

40x Day & Night Zoom Lens

Zoom Ratio

Optical 40x, Digital 32x Zoom

Lens (wide to tele)

Optical x40 Zoom, f=4.25mm to 170 mm, F1.6 (wide) to F4.95 (tele)

Horizontal viewing angle (wide to tele)

66.35° to 1.9°

Focusing system

Auto / One Push / Manual

Minimum object distance (wide to tele)

0.1 – 10.0m (focus near limit range)

Zoom speed

0 (Slow) – 7 (Fast)

Lens refresh

One Push / 1 – 10 Days

Digital zoom

OFF / MAX 2x – 32x

Zoom preset

5 preset

Exposure mode

Auto, lris Priority, Shutter Priority, Manual

Gain control (AGC)

0 – 10 steps

Shutter speed

1/30(25) – 1/30,000 sec

Iris

Close – F1.6

Digital Slow Shutter (DSS)

Off / 2x / 4x / 8x / 16x / 32x  (x64: 60 or 50fps mode only)

Flickerless

Off / On / Auto

Brightness

0 – 14 steps

Back Light

Off / BLC / HLC / WDR

(BLC – Back Light Compensation, HLC – High Light Compensation, WDR – Wide Dynamic Range)

Day & Night

Auto / Day / Night / Ext-in

White balance mode

Auto, One Push, Manual, Indoor, Outdoor, Auto-Ext

Red Gain

0 – 100 steps (Manual mode only)

Blue Gain

0 – 100 steps (Manual mode only)

Chroma

0 – 20 steps

Hue

0 – 20 steps

System (analog)

NTSC / PAL

Control protocol

Serial VISCA
Pelco-D / Pelco-P

Baud rate

2400 / 4800 / 9600 / 19200 / 38400 / 57600 / 115200
Camera Functions
Digital Noise Reduction (DNR)

2D/3D, 2D+3D (Level: 0 ~ 15 steps)

Mirror

Off / H / V / H&V

Sharpness

0 – 15 steps

Contrast

0 – 20 steps

Image Bright

0 – 20 steps

DWDR

Off / Manual / Auto

(DWDR – Digital Wide Dynamic Range)

Defog

OFF / Manual / Auto

Freeze

OFF / ON

Gamma

0.35 – 0.70

Privacy mask

OFF / ON (8 masks)

Motion detection

OFF / ON (4 regions)

DIS

OFF / ON

(DIS – Digital Image Stabilizer)

Defect detection

OFF / ON
General
| | |
| --- | --- |
| Power requirement | 9 – 15V DC |
| Power consumption | Max. 520mA @12V DC |
| Operating temperature | -10°C to +50°C |
| Storage temperature | -20°C to +60°C |
| Operating humidity | 0% to 90% (no condensation) |
| Dimensions (L x W x H) | 101mm x 54mm x 64mm (L x W x H) |
| Weight | 355g |
Ordering Information
| Part number | Description |
| --- | --- |
| AS-CAM-40LHD-A | Harrier 40x AF-Zoom Camera |
| AS-CIB-3GSDI-002-40LHD-A | Harrier 40x AF-Zoom 3G-SDI Camera |
| AS-CIB-3GSDI-002-A | Harrier 3G-SDI Camera Interface Board. Analog composite output (when in 720p50/59.94/60 operating modes). Support for HD-VLC compression technology. Board only, no cables included. |
| AS-CIB-USBHDMI-002-40LHD-A | Harrier 40x AF-Zoom USB/HDMI Camera |
| AS-CIB-USBHDMI-002-A | Harrier USB/HDMI Camera Interface Board. Board only, no cables included. |
| AS-CIB-HDMI-001-40LHD-A | Harrier 40x AF-Zoom HDMI Camera |
| AS-CIB-HDMI-001-A | Harrier HDMI Camera Interface Board. Board only, no cables included. |
| AS-CIB-USL30-100MM | 30-way micro-coax cable for connecting the interface board to the camera. Length 100mm (Manufacturer: KEL, part number: USL20-30SS-005-C). |
| AS-CIB-USL30-50MM | 30-way micro-coax cable for connecting the interface board to the camera. Length 50mm (Manufacturer: KEL, part number: USL20-30SS-005-C). |
| AS-CIB-BRK-007-A | Metal bracket, screws and spacers for mounting Harrier camera interface boards to a Harrier 40x AF-Zoom Camera. |
Harrier AF-Zoom cameras
Watch this video to learn more about Harrier AF-Zoom cameras: