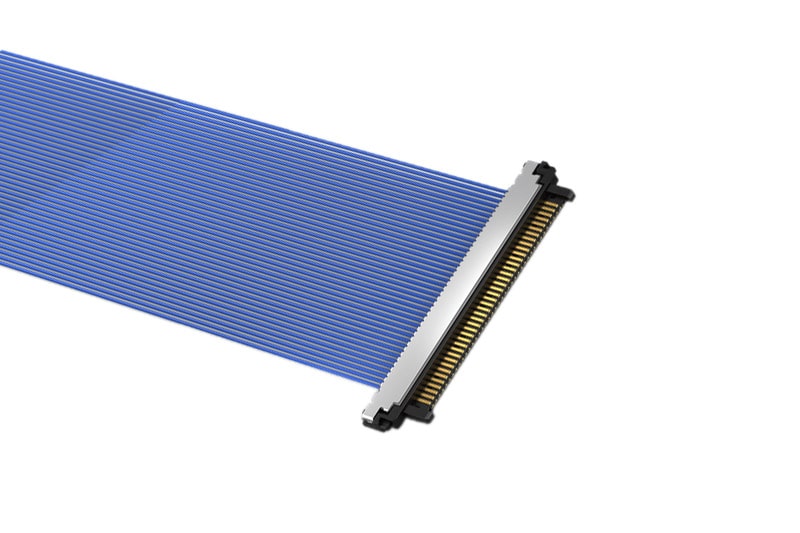 Click image to enlarge
Micro-coax cable 30-way (KEL cable)
Part Number: AS-CIB-USL30-50MM, AS-CIB-USL30-70MM, AS-CIB-USL30-100MM, AS-CIB-USL30-150MM, AS-CIB-USL30-200MM, AS-CIB-USL30-300MM
End A = 30-pin KEL USL00-30L, horizontal
End B = 30-pin KEL USL00-30L, horizontal
Cable: AWG#42 micro coax cable
Standard lengths: 50mm, 70mm, 100mm, 150mm, 200mm, 300mm
Custom lengths on request (MOQ applies)
Suitable for Harrier, Tamron and Sony LVDS block cameras
To connect to Harrier Camera Interface Boards
Enquire About This Product
Description

Product Specs

Downloads

Ordering Info
Description
Products Specs
Downloads
Ordering Info
The micro-coax cable 30-way (KEL cable) combines a 30-way AWG#42 micro coaxial cable with 0.4 mm pitch insulation-displacement USL connectors. This high-quality cable allows for high signal transmission speed by ensuring high level of noise suppression. It is ideal for use with AF-Zoom LVDS block cameras and we recommend using this cable to connect your Harrier camera interface board to the camera of your choice.
Standard lengths available are 50, 70, 100, 150, 200 and 300 mm.
Other lengths on request, minimum order quantities (MOQ) apply.
Contact us for more information.  See all cameras available from Active Silicon.
Cable assembly
Connectors

Both ends: USL00-30L – KEL USL series, 0.4 pitch, insulation-displacement connector (IDC), horizontal.

A->B connection: Pin 1->Pin 30

Cable

AWG#42 micro coaxial cable; various lengths available, see order information
Connector specifications
Pitch

0.4mm

Number of contacts

30

Mating width/length/height

width: 5.6mm
length: 0.5mm
height: 1.0mm

Current rating

0.25A

Contact resistance

100 mΩ max

Type

Receptacle (female), horizontal

RoHS

Compliant

Operating temberature range

-40 to +85°C
Ordering Information
| Part number | Description |
| --- | --- |
| AS-CIB-USL30-50MM | 30-way micro coax cable assembly, 50mm length; (Manufacturer: KEL, USL20-30SS-005-C). |
| AS-CIB-USL30-70MM | 30-way micro coax cable assembly, 70mm length; (Manufacturer: KEL, USL20-30SS-007-C). |
| AS-CIB-USL30-100MM | 30-way micro coax cable assembly, 100mm length; (Manufacturer: KEL, USL20-30SS-010-C). |
| AS-CIB-USL30-150MM | 30-way micro coax cable assembly, 150mm length; (Manufacturer: KEL, USL20-30SS-015-C). |
| AS-CIB-USL30-200MM | 30-way micro coax cable assembly, 200mm length; (Manufacturer: KEL, USL20-30SS-020-C). |
| AS-CIB-USL30-300MM | 30-way micro coax cable assembly, 300mm length; (Manufacturer: KEL, USL20-30SS-030-C). |