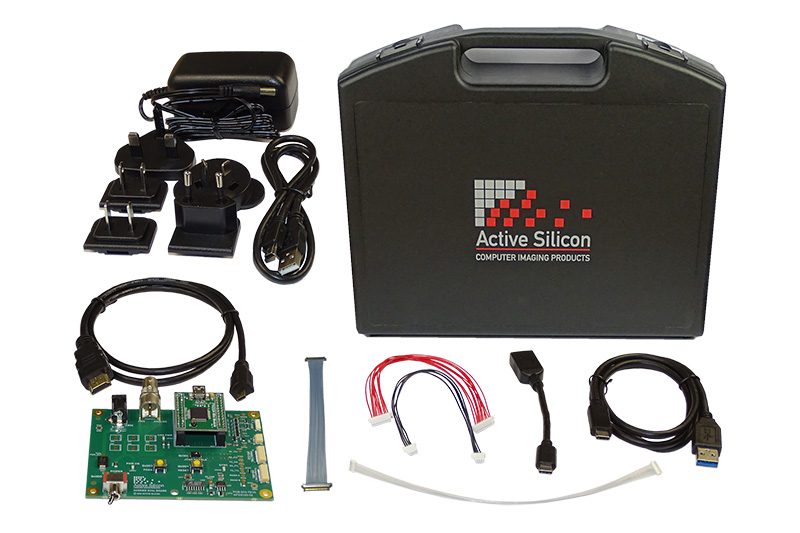 Click image to enlarge
Evaluation Kit for Harrier USB/HDMI
Part Number: AS-CIB-USBHDMI-001-EVAL-A
For evaluation of Harrier USB/HDMI and HDMI camera solutions.
Includes the Harrier Evaluation Board, power supply and all cables required for fast setup.
Immediate connection to USB, analog and HDMI video outputs.
VISCA™ camera control.
Buttons for test pattern generation and reset.
LEDs to indicate power and SYNC signal status.
JTAG programming capability.
Enquire About This Product
Description

Product Specs

Downloads

Ordering Info

More
Description
Products Specs
Downloads
Ordering Info
More
The Evaluation Kit for the Harrier USB/HDMI delivers everything you need for rapid evaluation of the Harrier USB/HDMI Camera Interface Board, the Harrier HDMI Camera Interface Board and Harrier USB/HDMI or HDMI cameras. The Evaluation Kit contains the Harrier Evaluation Board, a multi-region power adapter and a complete set of cables that enables you to quickly and easily setup and test Harrier USB/HDMI or Harrier HDMI camera solutions.
The Harrier Evaluation Board provides power, VISCA serial communication to the camera/camera interface board, easy access to analog video output and push-button control of reset and test pattern generation signals. HDMI and superspeed USB cables are included so that you can immediately connect the video outputs of the camera interface board to a monitor or UVC application on a USB3 enabled PC. The USB SDK supports VISCA control over the USB connection. For more information please download the Harrier USB/HDMI Quickstart guide and Harrier evaluation board datasheet.
Note: the Evaluation Kit does not include a camera or camera interface board – these need to be ordered separately.
Evaluation Kit
Kit Contents:

Harrier Evaluation Board
Micro HDMI cable
30-way micro coax cable (KEL cable)
10-way cable
4-way cable
White 8-way cable
USB-C plug to USB-A socket adapter
USB3 USB Type C SuperSpeed (5 Gbps minimum) cable
USB Type A to mini USB Type B cable
Multi-region 12V power supply (please fit the adapter suitable for your region)

Please note: Camera and Camera Interface Board not included.

Weight of the evaluation kit:

1.35 kg (including case)

Dimensions of the case:

355mm x 310mm (max) x 90mm (L x H x D)
Harrier Evaluation Board Features
Analog output (J301)

BNC connector to supply the analog video output that is supplied (when enabled) from the PWR/CTRL connector(s) (J3) on the camera interface board.

PGEN button (SW303)

Button, when pressed will activate the I/O signal (on J102) that causes the camera interface board to generate a test pattern video output. The test pattern will only be displayed whilst the button is being held down.

Reset button (SW304)

Button, when pressed it will activate the I/O signal (on J102) that causes the camera interface board to reset. Reset is required to activate some features of Tamron cameras (e.g. change of video mode). It is also possible to trigger a camera reset via VISCA command.

Power (J306)

Power is supplied to the Harrier Evaluation Board from a 12V power supply via a barrel connector (J306). A connected camera and interface board are powered from the same supply via the Power Switch (SW302). When the Power Switch (and power supply) is switched ON the PWR ON LED will illuminate. The power supply is protected against reverse connection by a diode.

Serial communications/USB input

Serial camera/camera interface board control is provided by the USB interface (FTDi FT4232 Mini Module). A standard a USB Type A to mini USB Type B cable is used to connect the board to a PC.

FTDI drivers are required to communicate with the FTDI module. These drivers are usually automatically installed on Windows 10. For Windows 7, it is recommended that the latest drivers are installed; these are available from here:
https://www.ftdichip.com/Drivers/D2XX.htm

The board USB connection will be seen by the PC software/OS as three standard virtual COM port connections. The number of each COM port is assigned by the software/OS being used. Windows Device Manager can be used to identify the three actual port numbers assigned.

Dimensions

100mm x 78mm (not including connectors).

Weight

~60g.

Power supply and consumption

12V ±5%; maximum 1W + connected device power consumption.

Temperature and humidity

Storage temperature: -20°C to +70°C.
Operating temperature: 0°C to +60°C (ambient environment).
Humidity: 10% to 90% non-condensing (operating and storage).

Further information

The Harrier Evaluation Board datasheet, available in the download section, provides additional information on the board, including JTAG programming and firmware update, connector specifications of the board, test software, conformance and physical/environmental details.

A photo and a diagram of the Harrier Evaluation Board can be viewed under the "other information" tab on this page as well as in the datasheet.
Ordering Information
| Part number | Description |
| --- | --- |
| AS-CIB-USBHDMI-001-EVAL-A | Evaluation Kit for Harrier USB/HDMI. Includes power supply, board cables (AS-CIB-CBLKIT-003-A), micro-coax cable (AS-CIB-USL30-100MM, for connecting camera with camera interface board) and the Harrier Evaluation Board with PC serial interface (via USB UART). Not included: Camera and camera interface board. |
| AS-CIB-USBHDMI-002-A | Harrier USB/HDMI Camera Interface Board. Board only, no cables included. |
| AS-CIB-USBHDMI-002-10LHD-A | Harrier 10x AF-Zoom USB/HDMI Camera. |
| AS-CIB-USBHDMI-002-1010-A | Harrier 10x AF-Zoom USB/HDMI Camera (Tamron MP1010M-VC). |
| AS-CIB-USBHDMI-002-1010WP-A | Harrier 10x AF-Zoom USB/HDMI Camera (Tamron MP1010M-WP). |
| AS-CIB-USBHDMI-002-7520A-A | Harrier 30x AF-Zoom USB/HDMI Camera (Sony FCB-EV7520A). |
| AS-CIB-USBHDMI-002-36LGHD-A | Harrier 36x AF-Zoom USB/HDMI Camera; with global shutter. |
| AS-CIB-USBHDMI-002-40LHD-A | Harrier 40x AF-Zoom USB/HDMI Camera. |
| AS-CIB-HDMI-001-A | Harrier HDMI Camera Interface Board. Board only, no cables included. |
| AS-CIB-HDMI-001-10LHD-A | Harrier 10x AF-Zoom HDMI Camera. |
| AS-CIB-HDMI-001-1010-A | Harrier 10x AF-Zoom HDMI Camera (Tamron MP1010M-VC). |
| AS-CIB-HDMI-001-1010WP-A | Harrier 10x AF-Zoom HDMI Camera (Tamron MP1010M-WP). |
| AS-CIB-HDMI-001-7520A-A | Harrier 30x AF-Zoom HDMI Camera (Sony FCB-EV7520A). |
| AS-CIB-HDMI-001-36LGHD-A | Harrier 36x AF-Zoom HDMI Camera; with global shutter. |
| AS-CIB-HDMI-001-40LHD-A | Harrier 40x AF-Zoom HDMI Camera. |
| AS-CIB-CBLKIT-003-A | Cable kit for AS-CIB-USBHDMI-002-A containing cables for J2 and J3 that connect to the Harrier Evaluation Kit board. |