Camera Solutions for Industrial Inspection Applications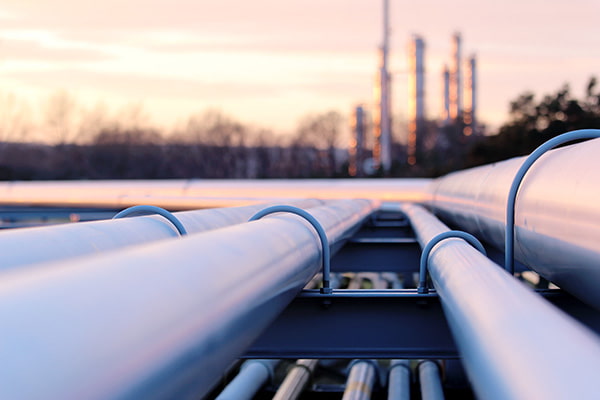 Active Silicon manufactures and distributes a broad range of autofocus-zoom cameras designed for industrial solutions. Additionally, we produce interface and converter boards that add extra support and flexibly. Hence, our AF-Zoom block camera solutions are suitable for a wide variety of industrial inspection applications.
Computer vision cameras and video camera interfaces for industrial inspection
Our portfolio includes cameras with 10x, 30x, and up to 40x optical zoom capability. We offer small and cost-effective rolling shutter camera options, as well as global shutter cameras, which are the best choice for capturing moving objects. All our AF-zoom block cameras provide full HD video and we just launched our first 4K resolution camera.
In addition to LVDS and analog output, Active Silicon products offer multiple video output options. Harrier camera interface boards, which can be closely integrated to all cameras in our portfolio, provide 3G/HD-SDI, HD-VLC, USB3, HDMI, Ethernet IP and MIPI CSI-2 video output. Check out our camera product pages and contact us for advice on finding the right autofocus-zoom camera for your inspection application.
Real-time, high-definition video transmission for industrial applications
Cameras with 3G/HD-SDI video output – suitable for long reach solutions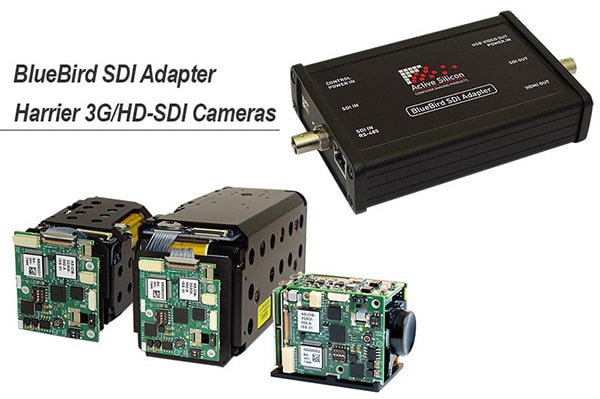 Harrier 3G-SDI cameras provide real-time HD-SDI and 3G-SDI output and can provide simultaneous analog output in Standard Definition (SD) video. For applications requiring very long cables, such as pipe inspection, HD-VLC® technology ensures visually lossless video signal transmission over coax cables in excess of 700 meters.
Our host-end BlueBird SDI Adapter can convert the HD-VLC (as well as SDI) signal to USB (UVC), HDMI and SDI as required. It functions as an external frame grabber for video streaming and video capture and provides the three output formats simultaneously. The BlueBird SDI Adapter is also perfect for upgrading legacy SDI-based systems.
USB and HDMI camera modules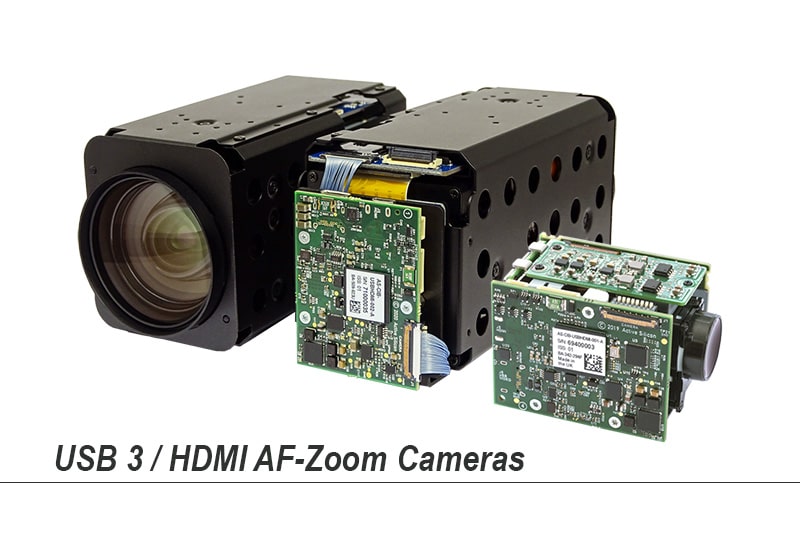 Active Silicon's USB/HDMI cameras provide simultaneous HDMI and USB Video Class (UVC) v 1.1 output and support remote camera control.
The Harrier 4K camera with HDMI output guarantees fantastic sharp video, image stabilization without visible quality loss and high quality still frames.
Ethernet IP cameras
Several of our camera models are available with Ethernet IP video output and offer low latency H.264 RTP streaming. Check out our Harrier IP solutions.
Industrial inspection applications that benefit from our block camera solutions:
Industrial inspection
ROVs and UAVs
Pipe inspection
Video transmission in harsh environments
Remote monitoring of energy lines and industrial tunnels
Traffic monitoring, toll barriers and ANPR (or LPR)
Law enforcement and security surveillance
Train and rail inspection systems
Video broadcasting
Contact us to understand what our 3G-SDI block cameras, HDMI block cameras, USB block cameras and Ethernet IP block cameras can bring to your inspection application.